BIG MEDIA & INTERNET TITANS: Media Ownership - the Democratic Challenge
publications
|
Posted by ed: Granville Williams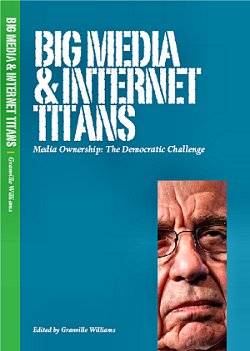 ISBN 978-1-898240-07-5
£5.00 Special Price
£8.00 when bought together with Settling Scores
Published June 2104, by the Campaign for Press and Broadcasting Freedom
Cover photograph (c) Kevin Lamarque/Reuters
Media pluralism must be put back on the political agenda. That is the central argument in this new book, just published by the Campaign for Press and Broadcasting Freedom.
"We identify key policy issues," said the book's editor, Granville Williams, "and argue that governments need to recognise that unless there are clear rules and limits on media ownership, democracy suffers. The Leveson Inquiry demonstrated this unequivocally."
'Big Media & Internet Titans' highlights the democratic challenges posed by excessive media power, both in the hands of 'old media'—newspapers, television, radio—but also through the emergence of the four giants of the internet age—Google, Apple, Facebook and Amazon.
Never before have such global behemoths grown so fast or spread their tentacles so widely.
The book poses urgent questions about media ownership and throws down the democratic challenge for politicians to embrace policies which will promote diverse, democratic and accountable media.
To purchase a copy ring 07729 846146 or send £9.99 (incl P&P) to 'Big Media', CPBF, 23 Orford Road, Walthamstow, London E17 9NL. Cheques payable to the CPBF.
You can pay by PayPal (which accepts credit and debit card payments as well as payments from a PayPal account) > here. Our other titles are also available.
Contributors to the book: Tim Gopsill, Ann Field, Paul Routledge, Martin Shipton, Des Freedman, Gary Herman, Mike Holderness, Andrew Wiard and Jonathan Hardy.
DATELINE: 2 June, 2014
Share
---